Research

& projects
Einsatzgruppe C - A WW2 photograph album which belonged to a named member of Einsatzgruppe-C. The location of this album is Kasprowy Wierch / Zapokane ski resort in Poland which was used by the SS & SicherheitsDienst at that time for Ski training courses and also for sporting events. The timeframe of this album is 17 March 1942 - 31 March 1942
Feldpost Adolf Meinke - Collection of over180 items of Feldpost, Letters, Postcards, Telegraphs belonging to Polizei Obersekretär Adolf Meinke. The period covered includes 3.Komp, Pol.Btl.181, Polizei-Bataillon 2, 1. Kompanie Pol.Rgt 1, Pol.Rgt 14.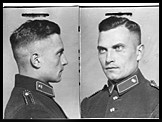 Documentation Josef Nowak - Paperwork collection of Josef Nowak (Dienst Nr. 2131), NSDAP Mitgliedskarte Nr.: 5 615 957, who served in several Polizei Bataillons in Sudetenland, Poland, France and Russia culminating in SS Pol. Rgt. 17 and then SS.Pol.Rgt.28 'Todt'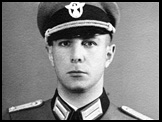 Hauptmann der schutzpolizei Josef Rill. 500 photograph collection (additional 400 postwar) belonging to Josef Rill, Polizei Bataillon 171, 124, through to SS-Hauptsturmführer North Italy 1944-1945 (Pol.Rgt.Schlanders /I Pol.Frw.Ers.Btl 'Italien').