Einsatzgruppe C -

Album


(ss, sd, polizei) -

franz mager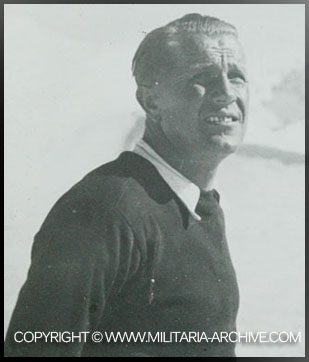 Research area notes-

I am researching a WW2 photograph album which belonged to a named member of Einsatzgruppe-C. The location of this album is Kasprowy Wierch / Zapokane ski resort in Poland which was used by the SS & SicherheitsDienst at that time for Ski training courses and also for sporting events. The timeframe of this album is 17 March 1942 - 31 March 1942. In addition to ski training and sports events Zapokane was also used as recreation : "Im Dezember/Januar 1942 zog man das gesamte Reserve-Polizeibataillons 9 in Zamosc im Distrikt Lublin zusammen. Am Ende des Osteinsatzes war der Zustand katastrophal. Die seelische Belastung, die durch die Teilnahme an einer Vielzahl von Exekutionen hervorgerufen worden war, war mehr, als die moisten Einheitsangehörigen ertragen konnten. Ein Teil der Polizisten kam zur Erholung nach Zakopane. Anschließend verlegte man das Bataillon erneut nach Norwegen."
Wolfgang Curilla, p.259 Der Judenmord in Polen und die deutsche Orgnungspolizei 1939-1945
This photograph album relates only to the Ski training course & Sporting event aspect of the use of Zapokane by Einsatzgruppe C, encompassing SS & SD officers & men. Page 1 caption is : "Unsern lieber kamaraden und skilehrer Franz Mager gewidmet. 2. Skilehregang der E(insatz).Gruppe C vom 17.3 bis 31.3.1942"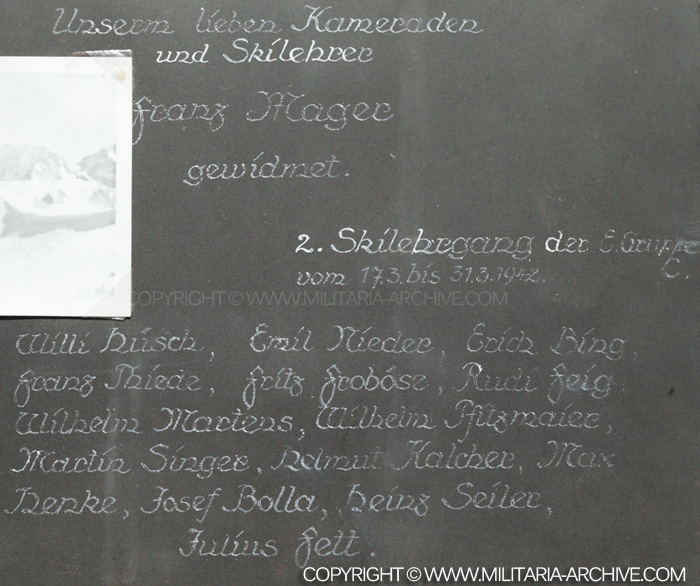 Page 2 of the album contains a picture of an SS - - Polizei Sportsgeschellschaft banner :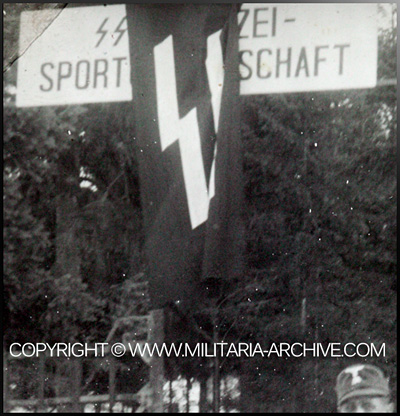 Named personnel
include (rank to follow):
Willi Hüsch * SS-Untersturmführer
Emil Nieder * SD-Hauptscharführer
Erich Bing * SD-Hauptscharführer
(see note at foot of page)
Franz Thiede *
Fritz Froböse * SD-Scharführer (album photographer and publisher).
Rudi Feig *
Wilhelm Martens *
Wilhelm Fitzmaier *
Martin Singer *
Helmut Kalcher *
Max Henke *
Josef Bolla *
Heinz Seiler (sp. Seiter ?) *
Julius Fett *
Franz Mager * An Asterisk beside the name denotes an individual full length named portrait within the album. The name 'Franz Thiede' possibly refers to SS-Stubaf. Franz Thiedecke, who is listed here:
http://www.geocities.com/~orion47/SS-POLIZEI/Einsatzgruppen.html
as being an Einsatzgruppe D adjutant : 'SS-Stubaf. Franz Thiedecke: Jul. 1942 — Disbandment'
Also referred by name is (Obersturmbannführer) August Meier :
= = = = = = = = = = = = = = =
Update April 7th 2014 (from steve Tyas)
"I have had a look in my Indices for the names that are mentioned:
Willi Hüsch, SS-Uschaf not Ustuf
born 8 April 1910
KIA 26 Dec 1942 at Lubiniki (serving with EG C/SK Plath) Emil Nieder
born 12 May 1902
June 1941, began Osteinsatz with EG C (no more info), SS-Hschaf KOA
June 1942, with SD-Ast Kirowograd Erich Bing
born 1906
to 1944, with EG C (no more info), SS-Hschaf KOA
from May 1944, with BdS Schwarzes Meer, Galatz, SS-Stuschaf KS Franz Thiede - nothing
and Franz Thiedecke was never with EG D, he was with RSHA IV D1 (Protektor matters) Max Henke
born 30 Sept 1903
1943, SS-Sturmmann, SD-Jagdkommando Shitomir (EG C area) Josef Bolla
born 10 Feb 1907
1943, SS-Rottf, KdS Rowno (EG C area) Heinz Seiler or Seiter - nothing
Julius Fett
KIA April 1943, originally with EG C/SK 4a then with KdS Tschnerigow Franz Mager- nothing
Fritz Fröbose - nothing Rudi (Rudolf) Feig
1943, PolizeiAssistent, RSHA I D (Training) Wilhelm Mertens
born 23 June 1902
Jan 1943, SS-Sturmmann, KdS Kiew (EG C area) Wilhelm Fitzmeier - Martin Singer - Helmut Kalcher - all nothing"
= = = = = = = = = = = = = = =
Update 16th May 2014
Willi Hüsch
First Name: Willi
Date of Birth: 8 April 1910
Place of Birth: Leverkusen
Highest Rank: SS-Untersturmführer
SS Number: 39600
Date Entered SS: Not listed
NSDAP Number: Not a member
Marital Status: Married
Religion: Unknown
Civilian Occupation: Unknown
Education: Unknown
Foreign Language: No
World War I Service: No
EINSATZKOMMANDO: C
Position: Not Listed
Einsatzkommando service: Undetermined to 26 December 1942
Other Assignment: Unknown
Waffen-SS Service: Unknown
Highest Award: Iron Cross 1st Class
Notes: Wounded several times; killed fighting partisans 26 December 1942
extremely short personnel file
National Archives File: A3343 SSO-120A
August Meier
First Name: August
Date of Birth: 8 October 1900
Place of Birth: Mainz
Highest Rank: SS-Obersturmbannführer
SS Number: 73073
Date Entered SS: 15 September 1933
NSDAP Number: 2019775
Date Entered NSDAP: 1 May 1933
Marital Status: Married
Religion: Agnostic
Civilian Occupation: Businessman
Education: Trade School
Foreign Language: No
World War I Service: Yes, 27th Field Artillery Regiment
EINSATZKOMMANDO: 5, 4B
Position: 4b - Commander, 5 - Commander
Einsatzkommando service: 5, September 1941 - January 1942to 26 December 1942, 4b, July 1942 - November 1942
Other Assignment: RSHA; SD Limoges
Highest Award: War Service Cross 1st Class
Postwar Sentence: No judicial proceedings discovered
Notes: Served in Einsatzkommando 2 in Limoges, 1944 SD Breslau, SD Wiesbaden; suicide
National Archives File: A3343 SSO-305A
Source - 'Field Men - The SS Officers who led the Einsatzkommandos - the Nazi Mobile Killing Units' French L.MacLean
= = = = = = = = = = = = = = =
http://www.axishistory.com/various/62-holocaust-a-war-crimes/holocaust-einsatzgruppen/668-einsatzgruppe-c
Sonderkommando 4b
It was disbanded 7 January 1944.
Commanders
SS-Sturmbannführer Günther Herrmann (1 June 1941 - 2 Oct 1941)
SS-Hauptsturmführer Fritz Braune (1 Oct 1941 - 21 Mar 1942)
SS-Obersturmbannführer Dr. Walter Haensch (21 Mar 1942 - 6 July 1942)
SS-Obersturmbannführer August Meier (6 July 1942 - 17 Nov 1942)
SS-Obersturmbannführer Freidrich Suhr (17 Nov 1942 - 12 Aug 1943)
SS-Sturmbannführer Waldemar Krause (12 Aug 1943 - 7 Jan 1944)
= = = = = = = = = = = = = = =
http://forum.axishistory.com/viewtopic.php?p=1063288 Post Number:#4 Postby steve248 on 02 Jun 2007, 14:11
There were no convalescent homes for SIPO men to recover from mass executions. von dem Bach went to Hohenlychen to be treated for his reactions to mass executions, but one exception doesn't make the rule.
Rank has it's privileges. When Pol Batl 9 was withdrawn from Russia in Dec 1941, at least 3. and 4. Kompanie (assigned to Einsatzgruppe C and D respectively) were given 2-3 weeks at the Polish ski resort of Zakopane on rest and recuperation. They were then despatched to Norway for the rest of the war. I have not read any interrogations of SIPO officers and NCOs where any period in a convalescent home came about during or after their Osteinsatz. I am speaking here of several hundred interrogations, not a handful.
= = = = = = = == = = = = = = == =
Julius Fett; Sonderkommando 4a, Sipo, E.K. 28th April 1943 Ukraine (ancestry.de WasT record:)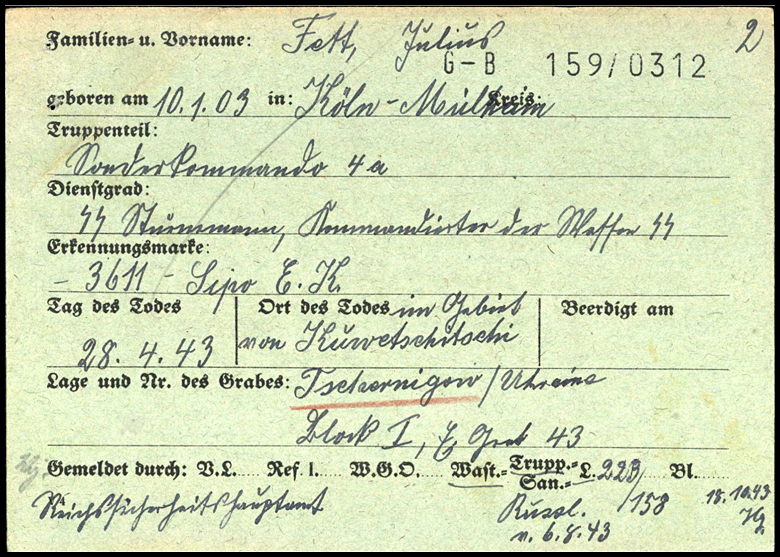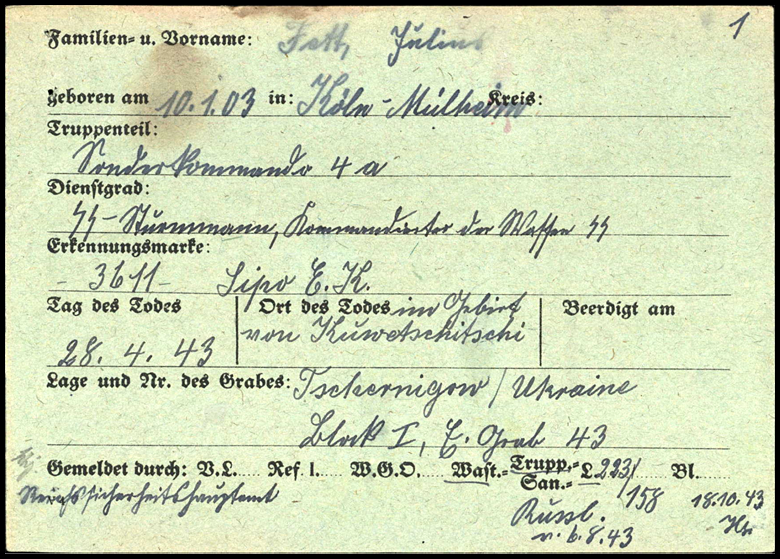 = = = = = = = == = = = = = = == =
Wilhelm Martens: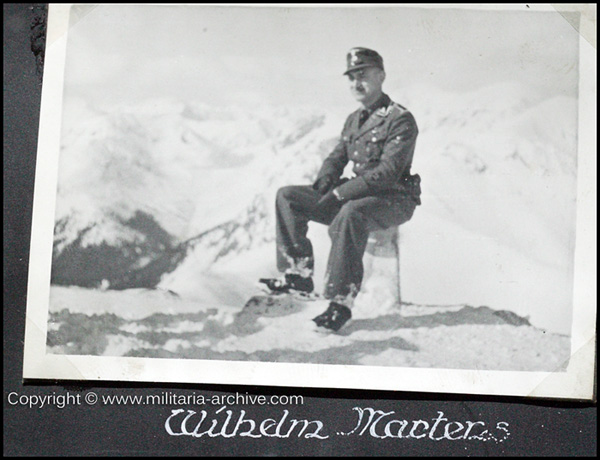 Detail Photo: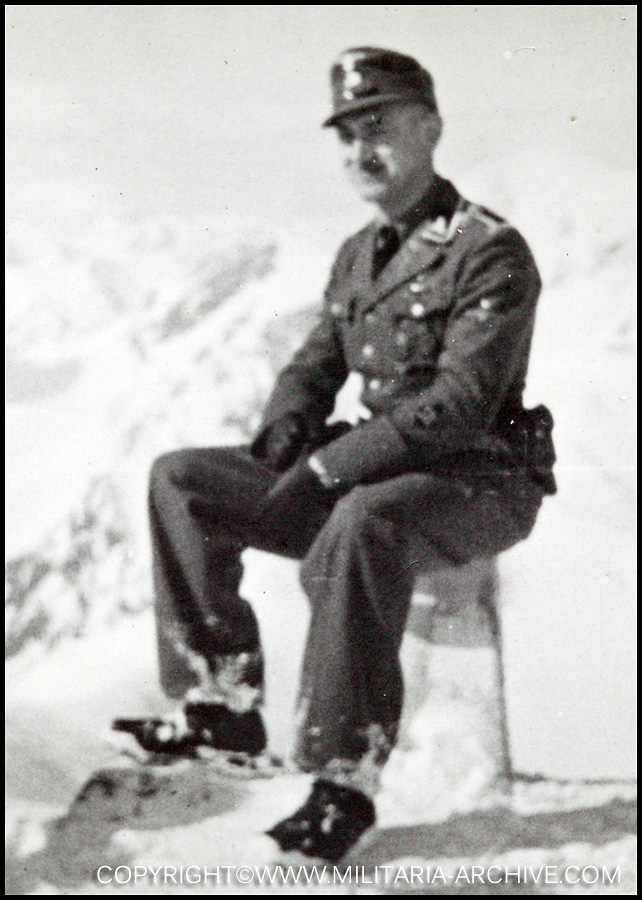 LOCATIONS
: There are photograph matches within the album to several locations
A)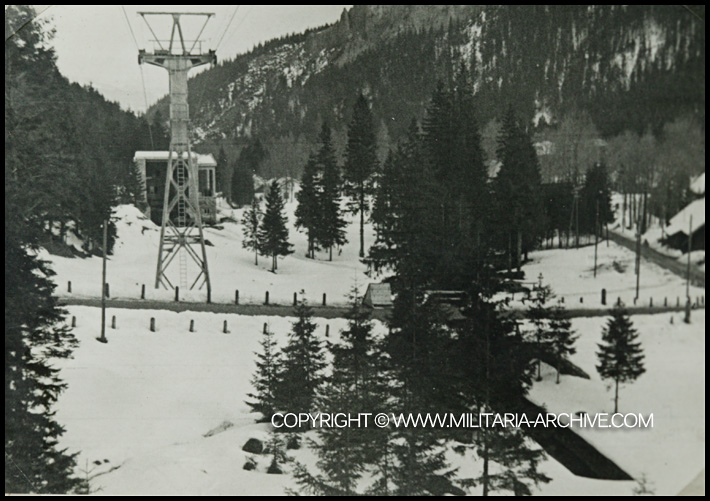 http://audiovis.nac.gov.pl/obraz/84776/5d6fc089d894e476a218501f2f249417/
Captioned: 'Inaugural run on the Kasprowy Wierch cable car railway in 1936. Photo NAC collection'
B)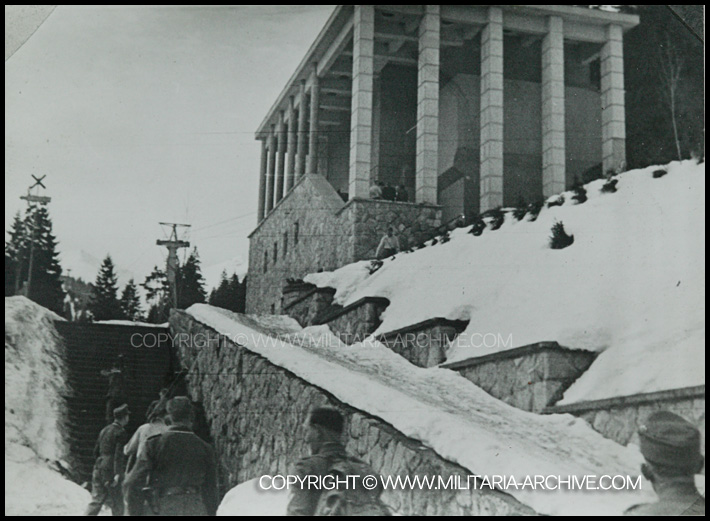 http://www.panoramio.com/photo/51223874
Captioned: 'Kuźnice. Kolejka do... kolejki linowej na Kasprowy Wierch '
C)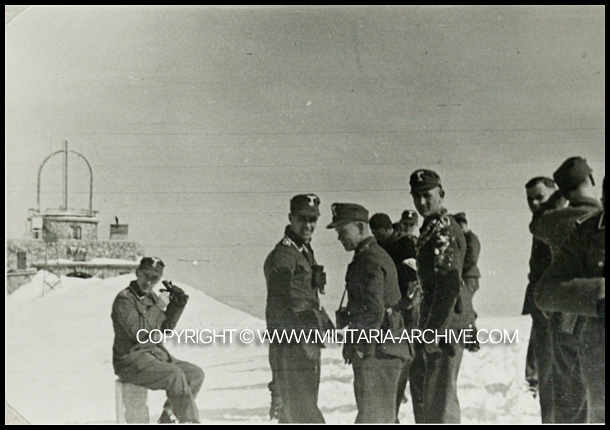 Kasprowy Wierch Observatory, Tatra Mountains, Poland, 1,991 m http://www.summitpost.org/meteorological-observatory-on-kasprowy-wierch-1987-m/476237
Uniform Anomalies :
Generalgouvernement-Sonderdienst Uniform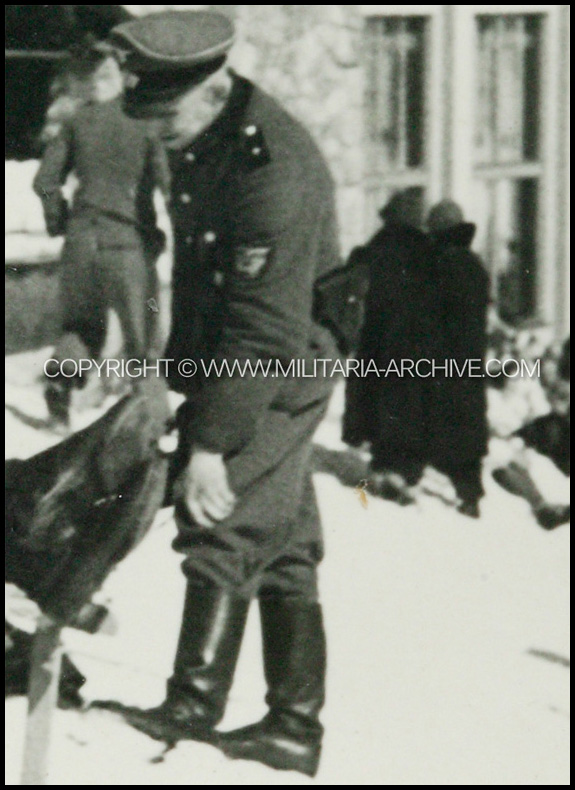 There are 2 odd uniform shots this one named as 'Josef Bolla' appears to be an earlier photograph added at a later point to the album::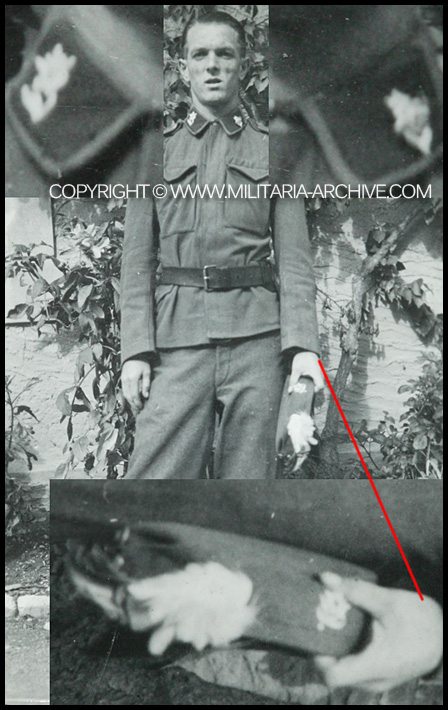 The uniform may be either of the following 'Kuk Kaiserschuetzen/Gebirgsschuetzen' or 'Alpenjager or Tirollandschutz'
Source : http://www.wehrmacht-awards.com/forums/showthread.php?t=726800
The 2nd out of place uniform shot is a Flak badge wearing Luftwaffe Flak unit who were also present at this location & time.
= = = = = = = = = =
M43 cap with metal insignia (details)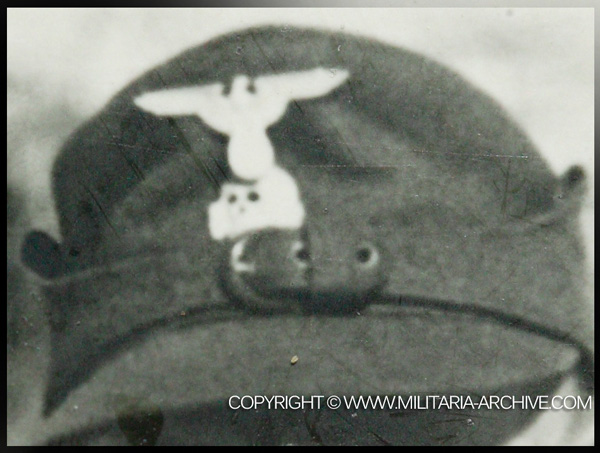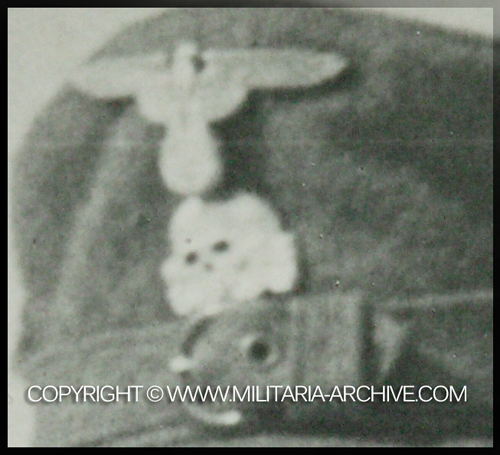 = = = = = = = = = =
CAPTIONS (named captions to follow)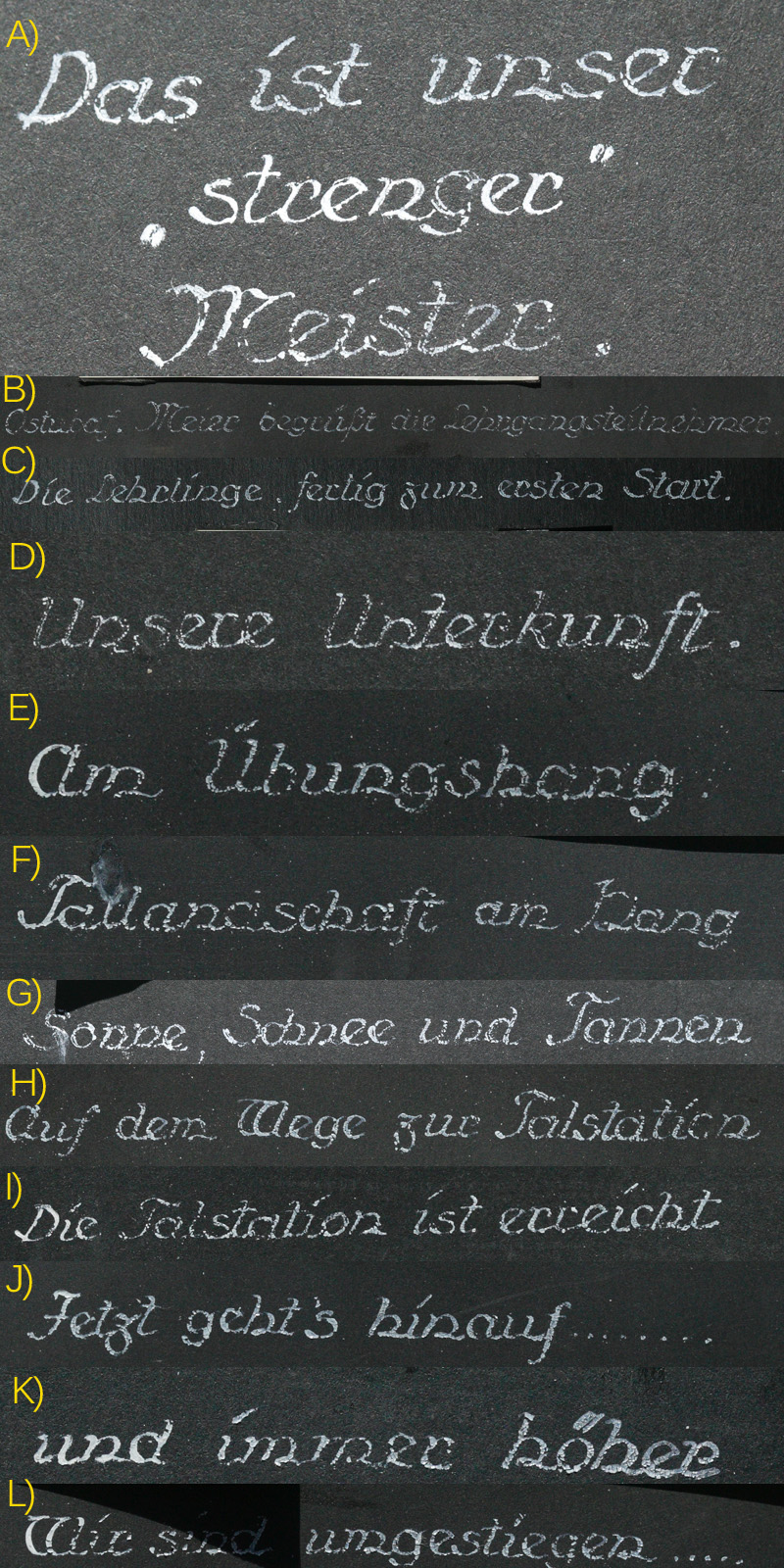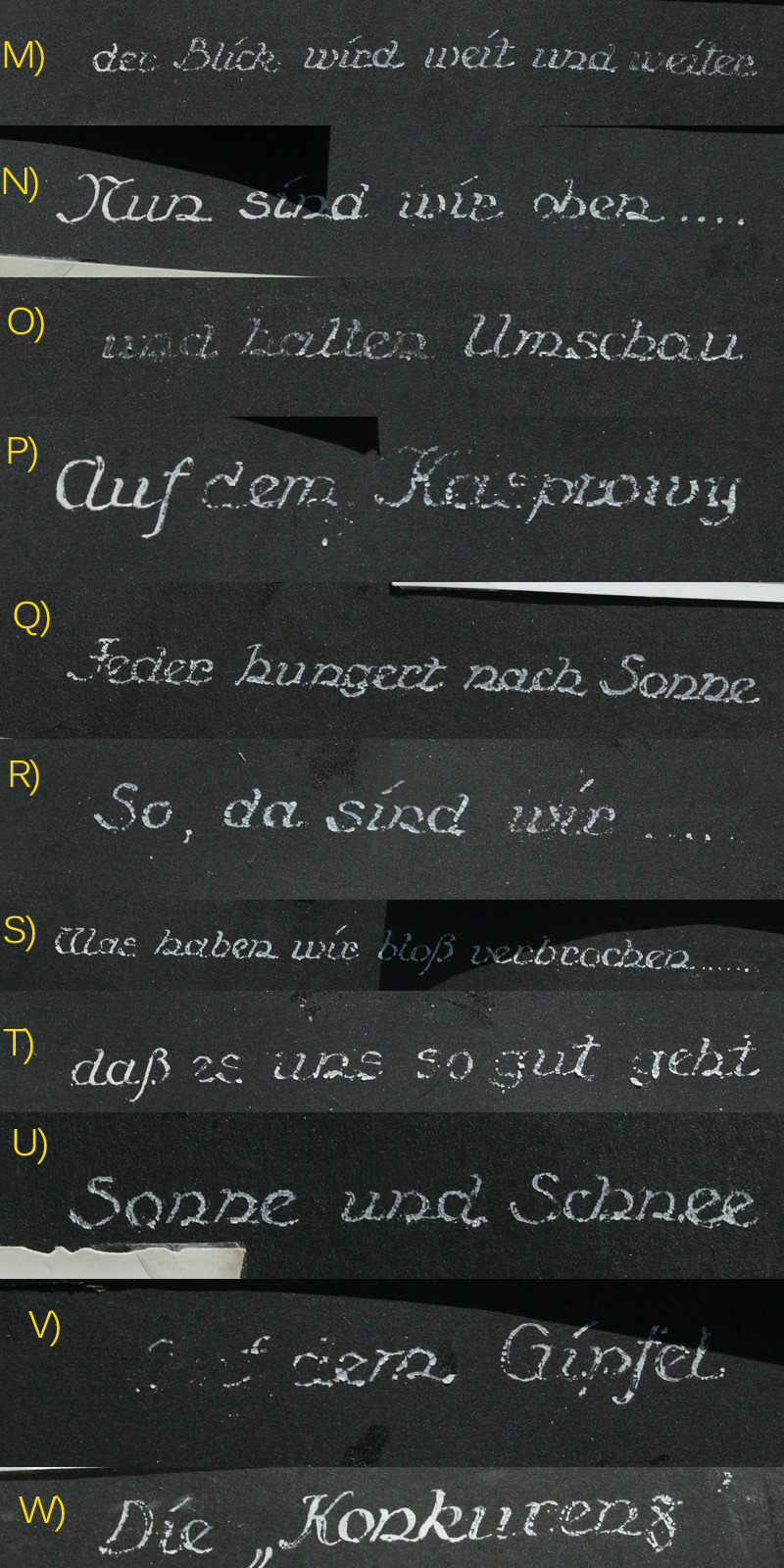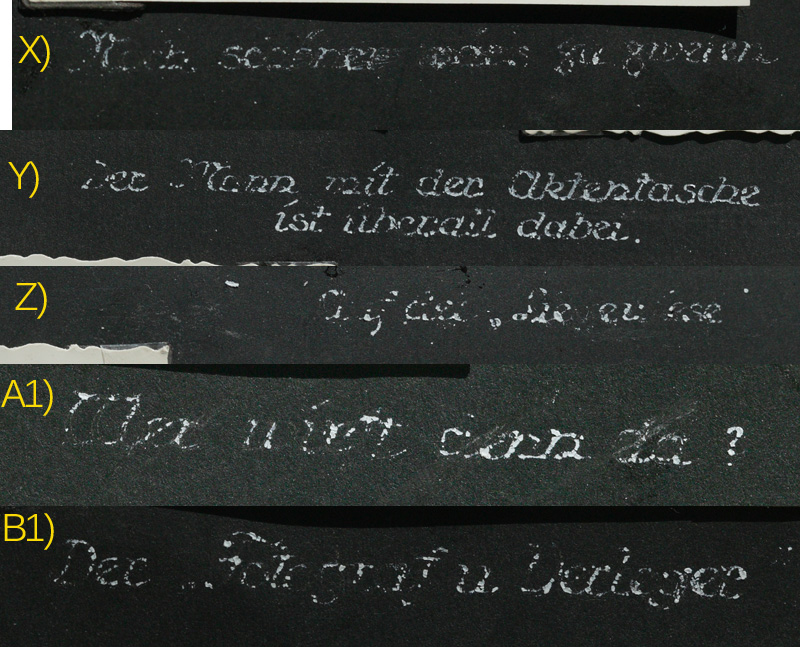 These are open to correction :
A) Das ist Unser "Strenger" Meister – 'It is our 'Strict' master'
B) Ostubaf. Meier begrüßt die Lehrgangsteilnehmer– 'Obersturmbannführer Meier welcomes the Course Participants'.
C) Die Lehrlinge . Fertig zum ersten Start – 'The apprentices. Ready to first launch'
D) Unsere Unterkunft – 'Our accommodation'.
E) Am Übungshang – 'On the Training Hill'
F) Tallandschaft am Hang – 'Valley landscape on the slope'
G) Sonne, Schnee und Tannen – 'Sun, Snow and Firs'
H) Auf dem wege zur Talstation – 'On the way to the Valley Station'
I) Die Talstation ist erreicht – 'The Valley station is reached'.
J) Fetzt geht's hinauf –'Rock goes up'.
K) Und immer Hoher – 'And ever higher
L) Wir Sind umgestiegen . . . . – 'We are moved to . . . '.
M) der Blick, wird, weit und weiter – 'The view is far and wide'.
N) Nun sind wie ober – 'Now we are higher'.
O) Und halten Umschau –'And the Cold Lookout'.
P) Auf dem Kasprowy- 'On the Kasprowy (Kasprowy Wierch, Zapokane)'
Q) Feder hungert nach Sonne – 'Spring hungers for the Sun'.
R) So, da sind wir . . . – 'So, here we are'.
S) Was haben wir bloß verbrochen – 'What have we done wrong'.
T) daß es uns so gut geht – 'This is as good as it gets'.
U) Sonne und schnee – 'Sun and snow'.
V) auf dem Gipfel – 'On the summit'.
W) Die Konkurenz – 'The competitors'.
X) Noch schöner wär's zu zweien - 'Even better would be two'.
Y) Der Mann mit der Aktentasche ist überall dabei – 'The man with the briefcase is everywhere'.
Z) Auf der "Liegewiese" - 'On the "Lawn".
A1) Wer winkt denn da? – 'Who beckons here'.
B1) Der Fotograf u. Verleger – 'The Photographer and Publisher'.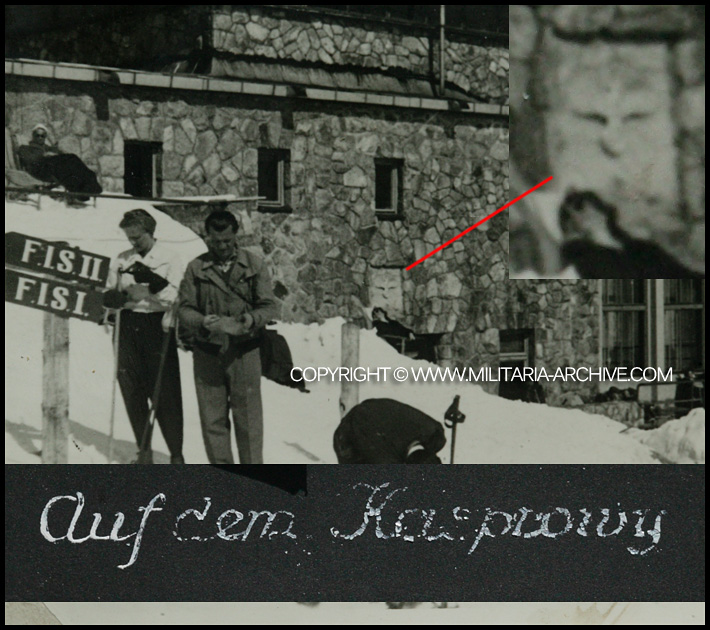 = = = = = = = = = =

Notes :
http://www.lexikon-der-wehrmacht.de/Zusatz/SS/Ordnungspolizei-R.htm
PolBtl 3 FPNr. 36 381 +(Berlin), 1939 Polen, aus PolBtl II/6; Mai 40 Drontheim, später Rußland; Juli 42 b.d.SichPol in Rußl., wird II./PolRgt 1 (s.d.)
00.01.1942
Ablösung des ResPolBtl 9 beim Einsatz im Rahmen der Einsatzgruppen in der Sowjetunion durch das ResPolBtl 3.
Einsatz der 2./ResPolBtl 3 bei Einsatzgruppe C, Hgr.Süd als Ablösung der 3./ResPolBtl 9
(Peter Klein (Hrsg.), Die Einsatzgruppen in der besetzten Sowjetunion 1941/42,S. 71)
= = = = =
http://www.holocaustresearchproject.org/nazioccupation/sdschool.html
http://www.holocaustresearchproject.org/einsatz/einsatzCorg.html
= = = = = = = =
http://www.geocities.com/~orion47/SS-POLIZEI/Einsatzgruppen.html
SS-Stubaf. Franz Thiedecke: Jul. 1942 — Disbandment
EINSATZGRUPPE D (Redesignated KAMPFGRUPPE BIERKAMP, Mar. 1943)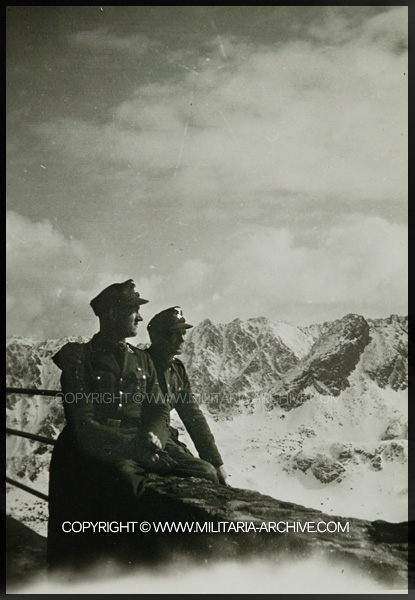 Pictured above 2 members of Einsatzgruppe C March 1942 Zapokane, Poland.
Re Erich Bing -'Mein Weg' p.12 :
"Mein Vater, inzwischen zum Kriminalobersekretär befördert, wurde schon im Jahr 1941 zum Wehrdienst beim SD, dem Sicherheitsdienst der Polizei, einberufen. Als SS Sturmscharführer war er im Bereich "Abwehr" tätig und im Einsatz im südlichen Russland, der Ukraine, später in Rumänien. Längere Zeit war er auch in Lemberg, Kiew und Djebropetrowsk stationiert und erzählte im Urlaub begeistert von dem Opernhaus in Odessa und der riesigen Treppe, die aus der Stadt in den Hafen führte. Seit August 1944 wurde Vater als vermisst gemeldet. In einer großen Kiste, die ich auf unserem geräumigen Dachboden entdeckte, hatte er für mich hochinteressante Utensi-lien deponiert. Da war auch eine Pistole, Walther PPK Kaliber 6,35, die später noch eine Rolle spielt. Eine Hand voll Patronen, Handgranatenzünder, Kanonenschläge und eine so genannte Biwakschachtel. Das war, nach heutigem Sprachgebrauch Camping-zubehör auf engstem Raum zusammengepackt. Bei Großmutter in der Küche stand schon länger ein Radio, ein Volksempfänger, auf dem nur wenige Sender zu empfan-gen waren. Aber wir hatten dagegen schon ein ganz tolles Radio mit Plattenspieler und somit trafen sich abends in unserem Wohnzimmer auch Familien aus der Nachbar-schaft, um gemeinsam Radio, meist den Soldatensender Belgrad, mit Grüßen aus der Heimat zu hören. Um 22 Uhr hörten wir dann immer Lale Andersen mit "Lilly Marlen"– Vor der Kaserne vor dem großen Tor…! Dank einer großen Antenne auf dem Dach hatten wir einen sehr guten Senderempfang und bekamen daher auch die neuesten Luftlagemeldungen mit und verbotenerweise auch schon mal Nachrichten und Hetze von Feindsendern. Längst hatten wir, nach dem Vorbild der älteren Jungen aus der Straße, schon eine neue Möglichkeit zum Radioempfang mittels selbstgebau-ten Detektorempfängern entdeckt, und so entwickelte sich auf den Dachböden, ge-stützt auf ein umfangreiches Antennengewirr, ein regelrechter Funk- und Abhörbe-trieb.