Documents

& propaganda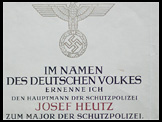 Documents - 9 award document set to Major Der Schutzpolizei, Josef Heutz.The following information from a holocaust site may refer to this man: 'Degenhardt replaced Hauptmann Heutz in spring 1942 as chief of the Czestochowa police. Between spring and summer 1942 the police command (later called Schupo-Kommando) was extended from 30 - 40 to 50 - 60 Germans. The headquarters were located at the Polish townhouse in 75 Marienallee Street'.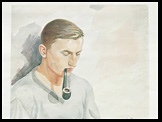 Propaganda -
Das Bild Des Krieges & Skizzen Aus Dem Osten,
Periodicals - Magazines, books, flyers, posters
'Die Deutsche Polizei'.
Deutcshes Polizei-Archive 1929
Coming soon'Die Polizei' 1926 yearly volume.
medals

section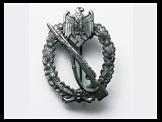 A collection of World War 2 German Medals,, including Winterschlacht im Osten 1941/1942 (Winter Battle in the East 1941/1942), Verwundetenabzeichen (1939 Wound Badge), Infanterie-Sturmabzeichen (Infantry Assault Badge), Sturmabzeichen (General Assault Badge), DRL (Deutscher Reichsbund für Leibesübungen) Sports Badge, Sturmabteilung (SA) Sportabzeichen (Sports Badge), Krim Shield, NSDAP Treudienst Ehrenzeichen (25 year Faithful Service medal), Cross of Honour 1914 - 1918 (Hindenburg Cross), Kriegsverdienstkreuz 2.Klasse mit Schwertern (War Merit Cross 2nd Class with Swords), Kriegsverdienstkreuz 2.Klasse (War Merit Cross 2nd Class), Kriegsverdienstmedaille (War Merit Medal) & more.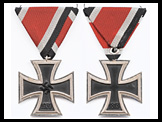 Iron Cross Private Collection. The Iron Cross was first issued on March 10, 1813 by King Frederick William III of Prussia. It was revived in the time of major conflict such as the Franco-Prussian war, the First World War and again on 1st September 1939. Shown here is a private collection of 1939 Iron Cross 2nd Class awards from many various makers. Each image contains makers notes where identified.
museums &

military history sites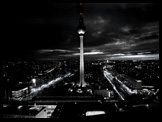 Museums & Military History Sites Gallery 1 -
Ireland - Deutsche Soldatenfriedhof Glencree, Wicklow, WWI Peace Oratory, Dun Laoghaire, Dublin, National Maritime Museum Ireland. For Irish Independence History related sites see the Irish Independence section.
Britain- Imperial War Museum London, (Coming soon Imperial War Museum North).
Germany- Berlin Military History Sites, Dachau Concentraion Camp - Konzentrationslager (KZ) Dachau Stasi Museum, Leipzig, (coming soon Munich & Obersalzberg, Berlin - Sachsenhausen Concentration Camp, Leipzig - Völkerschlachtdenkmal, Dresden - Militärhistorisches Museum der Bundeswehr).
Poland - Warsaw - Polish Home Army Uprising, Ghetto Museum, Old Town.
France - Normandy, Avranches, St Mere Eglise, Utah Beach, Caen, St James, Nantes & Brittany World War Memorials.
Australia- Military & General History memorials & sites.